We are in prime county fair season
Posted on July 1, 2018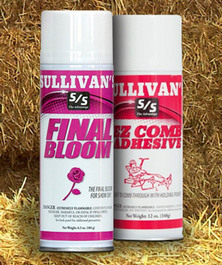 Fitting and grooming are important parts of the show process for cows. A cow that is not well clipped and groomed has no more chance of winning a fair than one that is poorly trained or has poor body composition. Fitting is the process of brushing a cow's hair so that it stands up. Grooming cleans the animal so that their color and coat characteristics are readily visible. You should groom your animals with special care immediately before fairs.
Norbys features many products for animal grooming including these products from Sullivan's.
EX Comb Adhesive is a clear aerosol adhesive for good haired cattle.
Another product you might appreciate for fair time is Sullivan's Final Bloom, the fantastic "LITE OIL" with a pleasant scent. Spray on before entering the show ring for the Final Bloom. Requires no washing out.